Artificial Grass for Garden and Landscaping in Milton Keynes
When the time comes for an area of land to be landscaped, a lot of planning and thought has to go into the design and a good Milton Keynes landscaper can help. Whether this is a piece of land in the middle of a town or a garden in someone's home, it has to be done correctly.
Landscape gardeners love nothing more than a blank canvas but it is all about looking at the bigger picture and understanding what is required to meet the needs of the client. An area of land in a town centre for people to enjoy might consist mainly of grass and shrubs, whereas a garden in a home might require lawn with a lot of shrubs and some impressive landscape architecture. There is no right or wrong for a landscaper when it comes to landscaping because it is all down to the preference of the individual but it still requires the right decisions to be made and this is where it counts.
When it comes to landscaping in Milton Keynes, many people are choosing a creative landscaper to change their gardens and outdoor space. This is because they want something that is unique, attractive and special. They might want to inject colour or they might choose to introduce plants that are green all year round or plants that encourage wildlife to thrive or grow. However, whether it is a personal garden or public land, choosing the right materials can make a world of difference and this is where artificial grass comes in.
What makes artificial turf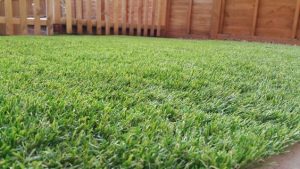 so unique is the fact that is provides a look and feel that compares with that of real grass. This is important to many people because while you cannot completely replace real turf, finding something that is almost as good is what many people are happy with. Artificial grass comes in many different shades and textures which makes it possible to find one that is perfect for the needs of the individual. It can also determine just how real it looks once laid.
Alongside, the aesthetics, there is the fact that artificial grass makes life so much easier. It not lonely looks good but it is also extremely practical and that means it can be used all year round – regardless of the weather. For those who appreciate the outdoors, it offers a perfect solution that fits in with what they want. There is no fuss, dirt, flooding or mess, it is simply perfect.
Any outdoor space requires maintenance but this is not the case for artificial grass. Taking care of it is as simple as having it installed and leaving it there. It might need a brush or a clean a couple of times a year but that is as far as it goes. There is no mowing or strimming which provides people with more time to enjoy their outdoor space. It offers durability, versatility and practicality and that is why so many people are choosing to have it installed as opposed to real turf. There is also pet friendly artificial grass for dogs available for pet owners in MK.