Artificial Grass Putting Greens
Golf can be a very frustrating sport for participants when things are not going right but artificial grass putting greens could be the solution. This highlights the need to practice, practice and practice some more. It is one of those sports that you simply have to keep playing to remain in good form and this means relying on good courses but also good practice facilities.
For those who play golf, you will be familiar with driving ranges and the artificial grass mats that you play your shots off. The artificial grass is there for a purpose – to mimic the real thing but also remain usable all year round and the same can be said for a putting green.
Some people who love their golf and can afford to have a putting green installed at home will know the benefits of being able to practice their putting when they want. However, if they have one that consists of real turf, they will know all about the effort involved in maintaining it and the fact that it cannot be used during bad weather or immediately after.
The same can be said for Golf Clubs and driving ranges where putting greens are available to members and visitors for them to practice their putting when they want. During the winter months, the putting greens are often out of use because of the long-term damage that can be caused through using the greens in bad weather. Putting greens can become waterlogged, soft, boggy and muddy which makes them useless and so, many golf clubs, practice facilities and even homeowners look for an alternative such as artificial grass.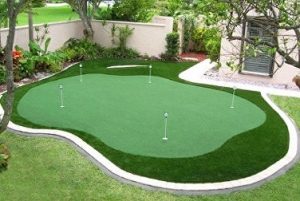 Choosing to have a putting green that is made of artificial grass brings with it so many benefits. All of a sudden, it become usable all year round which will please golfers because it will enable them to practice whenever they want. Artificial grass, when installed by experts will be able to withstand all weather which means golfers can practice when the weather is bad or immediately after a spell of bad weather.
For the owners of artificial grass putting greens, they will be pleased to know that maintaining the putting green could not be any easier. There is no denying the fact that real grass takes time, effort and money to maintain. There is the constant cutting because it has to stay at the optimum length. Then there is the weeding, feeding and rolling to keep the surface perfectly smooth so the ball runs as true as possible. Artificial grass removes maintenance to the point where all you need to do is give it a brush and a clean every so often. What this means is that time and effort is saved to the point where you can almost forget about it.
In the main, an artificial grass putting greens is all about providing golfers with the opportunity to practice their putting as much as possible. Therefore, artificial grass is versatile, durable and the perfect solution to an age-old problem which is ensuring it can be used when needed. If you would like to learn more about hiring artificial grass for weddings then the next page explains it in more detail.