Artificial Grass for Weddings
Have ever you heard of hiring artificial grass for weddings in Milton Keynes? Your wedding day is the biggest day of your life and that is exactly why you should have exactly what you want. Of course, many people still tend to go for the more traditional wedding but there are now more and more people who opt for something different, and why not? A wedding day is a day to remember so why not choose to incorporate different things into the day that will create something that will be etched into the memories of guests for years to come?
Some people like to arrive in a sports car or by helicopter. Some like to have entertainment that costs thousands of pounds but what about the finer details such as the décor and trim? These are the smaller things that have a greater impact because they will give your day that extra level of class. Therefore, if you are thinking of what you can do to introduce something different, why not consider artificial grass?
Artificial Grass for Weddings In Milton Keynes
For ideas and inspiration the Milton Keynes Wedding show which is held at Middleton Hall at CMK every year is the place to be. Here you can bring with you your ideas and wishes and find what you can use that can create a day that is different to any other. This is where artificial grass can really make a huge impact because it can deliver a look and feel that nothing else can come close to.
In the UK, wedding days are often blighted by terrible weather and dark grey clouds, so it does not hurt to introduce an electrifying splash of colour by using artificial grass. Its bright green yet authentic look can deliver a day that is special in every possible way. Through visiting the wedding show, you can find out exactly how artificial grass can enhance your big day.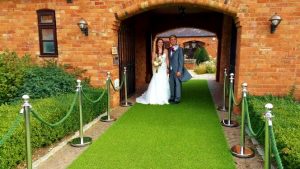 Introduce small pieces of artificial grass for weddings in the form of table runners and placemats. This can bring a table to life and give guests the feeling of something lively. Photographs taken around the tables will be full of love and colour but you can guarantee that it will certainly give it the wow fact. While the table runner and placements will certainly give your day a lift, think about how amazing artificial grass rugs and VIP entrance runners can look. Having the ability to bring the outdoors in will ensure that you no longer worry about the weather and the need to be outdoors. An artificial grass rug will offer versatility and durability while it will bring a venue to life not to mention the VIP entrance runners. Guests will be able to enter the venue in style and with artificial grass that looks and feels like the real thing, they will be able to feel as though they carefully straddle the outdoors and indoors, giving them a unique yet memorable experience.
Using artificial grass for weddings is becoming more and more popular but the transformation is incredible and that is why it makes any wedding something to never forget. Weddings are not the only occasions, you can also hire artificial grass for events such us themed parties, sports production and for theatre or TV.