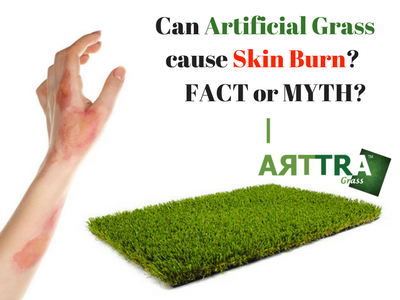 Skin Burn From Artificial Grass In Very Hot Conditions: Is It A Fact or Myth?
As much as we all love the sun, during the summer months we simply do not see enough of it. When it does appear it cause damage such as burning the skin or even melting your favourite ice cream but can it cause problems for artificial grass? The other question is that, can one get skin burn from artificial grass?
Many people are opting to install artificial grass as a way of making life easier for themselves as well as giving them a garden that they can enjoy all year round. The introduction of artificial grass brings with it many benefits, but one of the many questions people ask is whether it can get hot and can you get skin burn from artificial grass.
As mentioned, the sun can be damaging in many ways and we have all experienced what it is like to touch something that has been heated by the sun. Your patio furniture can become almost unusable when it is hot while your car steering wheel can be almost too hot to touch, not to mention how hot sand can get when you're trying to get to the sea for a cool down!
Around the garden, there is the potential for other areas of it to become hot such as your patio slabs which can be dangerous at times, especially for children and pets and so, this leads us onto artificial grass.
Yes it is made of a man made material and so, it is easy to understand why people would think that it could become hot and burn your skin but in reality, this is not the case. While it can become hot, never has any of our customers brought to our attention that they have suffered skin burn from artificial grass that we have installed in the past. The great thing about artificial grass is its durability and as part of this, it is designed to handle many different temperatures and conditions.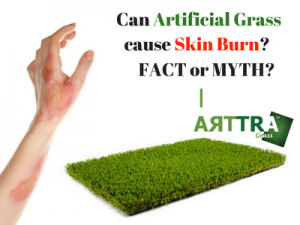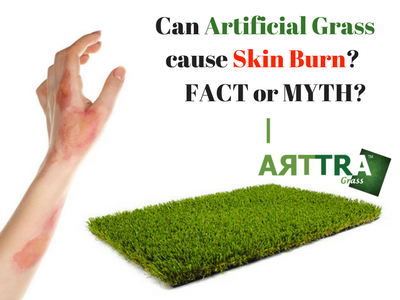 Of course, if artificial grass is heated to such a temperature it will melt but it tackles the heat of the sun perfectly well because it is developed to be useable at every time of the year. In fact, even homes in hot countries such as Dubai in the Middle East, Ghana in West Africa and South Africa are now deciding to install artificial grass as normal turf does not grow too well. This should tell you everything you need to know.
Another great feature of artificial grass is its ability to not only deal with the heat but also handle water very well. Unlike real turf, it will not turn to mud and will not leave your lawn looking like a slippery and dirty mess. Therefore, when the weather becomes incredibly hot, your lawn will not become hot and burn your skin because it is designed to handle the temperature but you can use it at the same time you decide to use a hosepipe to cool down the kids which is always a bonus – for you and them!
That is exactly why artificial grass is becoming common in so many gardens around the country. It has so many benefits, it really does make sense to put it in place.